"My son, fasten your seatbelt", said my mother as she was done combing my hair. "Are you sure you have eaten enough food? Because I do not want you to be tempted by what others are eating, neither do I want you to be hungry on the way", she continued as she gave me a basket filled with of food and fruits, then used her big African wrapper to wipe the dust off the side mirror of the 1996 two door American spec Mercedes Benz that I could afford to use. "You see…" She paused to check the petrol and oil gauges of the car. "This car has been serviced well for you, so that it will not disappoint you. My son, it is up to you not to disappoint us and yourself. We are all counting on you".
But I was lost; I was lost in thoughts, fantasizing about my neighbour's 2014 Maserati Ghibli. "At least, I will be sure of getting far ahead with that kind of machine", I said to myself. I was far away in thoughts, just imagining myself in it, riding it at top speed. "Hey you!" shouted my mum as she tapped me on my shoulder. She caught me staring at the car and at the same time licking my lips. She pulled my ear and said, "You should not be carried away by all these big things that you see around. You will get them at the right time. You know that all that glitters isn't gold. You should be happy and contented with what you have and what you have achieved. Just take a look at Charles' car", she shifted away from the driver's door, where she has been standing, so that I could get a clearer view. "I'm not trying to insult him, but you can see that he is using his father's old faulty Peugeot 504. But his condition does not mean that he will not succeed". She moved back to her previous position. "Remember that you started with a bicycle and now you are here".
"Saved by the bell", I whispered to myself as the announcer rang the bell to inform us that the next lap was about to begin. My mum stretched her hands again into the car to hold my head, and then she said, "My son, you are not doing this only for yourself, but also for us, your generation and your offspring". "Make us all proud!" she continued as she managed to give me a hug.
The announcer rang the final bell and we all fired our engines, producing various melodious mechanical sounds. We were ready, like soldiers preparing for war, we all had one goal and that was VICTORY. We assumed that we were chasing various things. But we were on the same track, we were provided with limited facilities and controlled by the same factors, making it all a little competition.
Experiences from the previous laps, right from the time I was on the race with my bicycle, have taught me great lessons. Despite all the backstabbing, disappointments, discouragement, discrimination, etc that I have experienced and even still experiencing, that voice keeps repeating itself, "Keep moving on, keep chasing your dreams".
Charles was offered a Bentley Continental on the way. They told him that the car was free; they told him that he was getting such an upgrade because of his hard work, commitment and loyalty. But the price he had to actually pay, was way too much for that machine. He was deceived, well, almost deceived because he refused to sell his soul to them. Of course, someone else thought he was a fool and jumped on the offer, but he never made it through. Let's just say that his remains were similar to pieces of roasted chicken.
The road is filled with lot of goodies, lot of aspirations, lot of crowns, but also a lot of thorns and challenges, spots where our forerunners fell and failed, also spots where they achieved something spectacular, and lots more. We made it to the end of the long lap, but my friend with the 2014 Maserati could unfortunately not make it. He was distracted by a beautiful damsel that was standing by the roadside. She left him with nothing but his underwear.
The road is very wide and long, it's like it continues till infinity. But at this point, we have completed all the tasks that we could; we have received some of the rewards, but most of them will be gotten later, maybe after or during the next lap, the same applies to the consequences of all our actions. For the next lap, some of us will be flying, while some will still be driving cars and those who failed, will remain on that spot for a while. Life is not fair. Sometimes, we don't get a second chance; we don't get the opportunity to rewrite a failed exam. We just move on with what we have. We keep our focus on the goal, on the throne, on the final destination.
There is no going back because life is nothing but a race filled with dreams. What we are chasing is exactly what is pursuing us. Our dreams are our driving forces. Keep the engine on and running. The race and chase continues and we will not give up because we are DREAM CHASERS.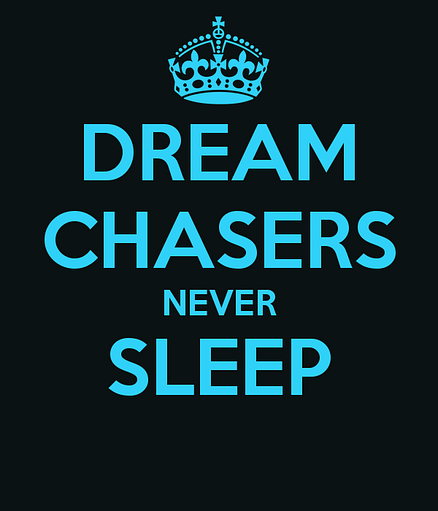 Thanks for reading 🙂