"An optimistic banter about a paralytic"
It started just like every other year, celebration in the air, women in their stilettos and elaborated head gears with facial make overs that could make you confuse your mom for a teenager. Men tried their best in their crispy new clothes, but as the attitude of men, most were not interested in this yearly charade and I belonged to this category, so I just wore one of my old clothes and my very grateful heart to church.
My participation in this sacred tradition wasn't prolonged as i had to dash back to school to finish up my final year project and initiate my internship. After submitting my final year project's write-up to my supervisor, he sat me down and gave me an intensive lecture of how I should not let this country limit my interest in engineering, he put it thus,"…there is no engineering happening in Nigeria", he said what most employers need in Nigeria is OND, HND holders, which I agree would suffice for anything we call engineering in Nigeria.
He advised me to take my postgraduate studies outside the country, if my parents have the capability (I pray they do ooo). After this long talk he prayed for me and advised me to make good use of the pieces of knowledge I was able to gather in the University.
I started my 3-month internship the next week. Internship-sounds cozy shey? I worked in a mechanic workshkop from January to April.The experience was totally enlightening, back breaking, head aching and worth it. I learnt a little about the "mechanics of the streets","perks of bullshit","survival of the nerds","naysayers and gamechangers" and most especially "wolves in sheep skins"- all this seeming like abstracts are aphorisms to describe the working condition of any average Nigerian workplace.
The clarion call finally came and I had to endure 10 hours of alternation between smooth journeys on good roads and excruciating hip and bum pain from gallops on bad roads. It was indeed a call, because if not, like Jonah I would have bailed out. I got to Abia late in the night; I had to crash the night in Aba before continuing my journey the next day to Umuna-bende, which is just past Umuahia-the state's capital. The first thing you would notice about the state's capital is the very narrow roads, it was as if the 'Gods own state', literally took the saying out of the bible,'…and narrow is the way, which leads unto…', I am not sure their own way leads to life though or pot holes.
The 21 days camp experience was a period for me to critically examine the things that were wrong with this country as I came face to face with some of these vices. It started first with the poor quality NYSC kit that was given to us, the ceremonial crested vest felt like glorified tissue papers, the khakis tore at the slightest stress and there were just three different sizes of jungle boots.
Our food contained invisible meat even though there were about four cows left on our passing out day.The egusi soup was indeed egusi soup 'cos you could literally pick out the egusi clusters in the soup and the leaf, the leaf basically floated on the water. The bread which was slightly palatable was just enough to hold your hunger during the period while you were eating it. Thank God for mammy market.
Two weeks just after we got into camp a vast majority of the sewers in the camp started leaking, we woke up every morning to this putrid smell that lay like a blanket over the camp, and in the afternoon when we had lectures there were not enough chairs for every one, so sometimes we had to stand for 4-5 hours. It was as if we were in a country that delibrately wanted us to develop contempt for her.
Camp ended and it was time for us to be posted to our various PPA's. I was posted to a village so my expectations were not high to start with, but when I finally arrived at my PPA, what I saw was below my already low expectations. I had to sleep on a bare floor for ten days after which I had high fever, but thank God for God and orthodox medicine, I got well in no time.
I am still serving presently and everyday it is one challenge or the other, it almost seems the devil is doing double shifts on our matter, S A T A N  B E  G O N E! (its an Asa's song) We Nigerians shouldn't sing it alone, we should pray it, say it, chant it and live it, 'cos as Nigerians we make up Nigeria,we are the country and one chief fault in this country is the missing virtues and values in not just our leaders but also in us, the people.
I have no resolution for 2018  apart from purchasing a pet dog and turning my hair to dreads,apart from those two all I would do is to stay away from petty intentions,contentious ideas and destructive potentials,in short just be a better person, 'cos I know one way or the other it would affect the people around me and as they say a butterfly flaps it wings in louisiana and it causes a massive wind in Missisipi and little by little the paralytic called Nigeria would get up on its legs and walk again.
ABOUT THE AUTHOR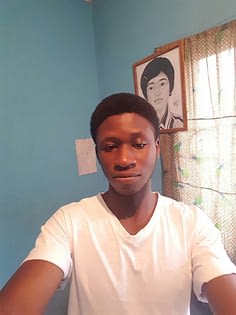 Name: Odukoya Oluwaseun
Bio: A budding engineer with keen interest in Automobile. As per writting I do for fun with the intention to change. I love rap. Kendrick lamar and J.Cole are my prophets.
FB: Odukoya Oluwaseun
IG: @amped4live
ALSO INTERESTING…
OTHER FEATURED WORKS
Green Light: http://valtoybob.com/green-light/
DEAF EARS: http://valtoybob.com/deaf/
CRACKED MIRROR: http://valtoybob.com/cracked-mirror/
THE BLUE BOY: http://valtoybob.com/ezim-osai/