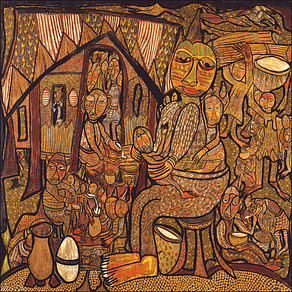 It has been a splendid day for Femi who got married to Bimpe fifteen years ago. Femi works with the Ministry of Finance while Bimpe is one of the successful lawyers in the town of Olorunsogo. Despite being a lawyer, she also owns other businesses which make her distinct among her peers.
Femi walked in on one faithful afternoon and to his surprise, he found that his wife is already home. "Eh eh! iyawo, we don't see cane rat in the afternoon, what happened?", he asked jokingly. "I've been feeling tired and also I have been throwing up since morning", she retorted.
"Holy Mary! I can start to smell something good. Why is it that you can't predict that you are pregnant dear?", Femi asked.
"I know that something nice is cooking up, but my fear is that…"
"Baby! Don't think of any negative thing, we have seen the pastor, we have visited the Imam and also stopped by the "Baba Pupa's" place since people claimed that he is good at what he does and since many people of our type, with similar problems, have been there and at the end of it all, it all ended in euphoria for them, by God's grace, ours won't be an exception, let's hope for the best", Femi speaks softly when he interrupted his wife.
"Hmmm!", Bimpe sighed. "Thank you for always being there for me, I'll always appreciate you for your endurance all this while but my dear we need a child to stay this time around", she paused a while and continued, "I'm tired of calling people's children, sending them on errands. I can't bear it anymore. I need someone to call Olamide, Yetunde or probably Oluwanifemi. I've always wanted to call my children these names right from university."
Now she's sobbing. "Despite going through throes of childbirth, I can't believe Olatunde my first son died when he clocked 10 years, Olufunsho who I gave birth to when Tunde was five also died when she was about clocking 8 years and the worst of it all, Bimpe, who I named after myself died some weeks after birth. Why is all of these happening to me? Have I wronged anyone, haven't I been faithful to you Lord or could I have been cursed during our wedding anniversary?"
"Oti o!" Femi interrupted, "Cursed ke! My dear, where are all these thoughts coming from? I'm the husband here, though sometimes, I think of it when my colleagues are being called by the names of their children when we are in a gathering. I'm always addressed as Mr Femi" He sighed, "Hmm, why is this happening to our family, God?"
After five minutes of sobbing by the couples, Femi then said, "Don't worry my dear, all will be well in due time."
After some months of fervent endurance and prayers, she gave birth to a bouncing baby boy and he was christened Olaitan, the boy lives on, after another 7 years, they gave birth to twins.
As years passed on, the three children continued to do well in their studies and everything continued to boom for the family. Until some years later, when the children had all grown up and they were all in the university. The twins got admitted into the university, one of them, which was Tayo, died after falling sick and being diagnosed with typhoid towards the end of the second-semester examination. This brought agony into the hearts to their parents. When this happened, the family was shocked and started fretting, thinking that their past problem had resurfaced. With a positive mind, the mother believed that it was probably God's doing and there was no cause for further worries.
The whole family decided to go on seven-day fasting and prayer session to rebuke all evils. During this period, a lot was revealed to Bimpe in her dreams. At the end of the fasting and prayers, Bimpe had a vision been revealed to her that all the past misfortune was just a test of faith and the end of it all, they have passed and they have been conquered. The next morning, Bimpe woke up with a smiling face and she narrated all she experienced during the night to her husband. Coincidently, they both said, "So there was nothing like Abiku, it was only God's doing." It was spontaneous as both parties looked into each other's face.
The following year, the eldest son graduated from the university with good grades and got a job in an oil company. He got married to Olayemi and they were blessed with five children. Kehinde on the other hand also graduated some years later and travelled abroad for his Master degree, there he got a job as a Nigerian ambassador. He got married, his wedding was the greatest in town. Their union was blessed with three children.
Bimpe and her husband were happy for the success of their children and for the fact that they finally had successors.
ABOUT THE WRITER
LAWAL, Samad Olamide was born in the early 90's. He hails from Ede North Local government in Osun State. He acquired both primary and secondary school education in Abeokuta, Ogun State where he is based with his family. He is the first born of the family of five. He went to Federal polytechnic Offa, where he bagged his OND in Mass Communication.
He is presently a final year student of the University of Ilorin studying linguistics. While growing up, he has engaged in lots of literary works which he now owns lots of works to his beck and call. He is a poet, an essayist and writer with vast experience. He has the writing prowess to write on any genre of literature and also, he writes for bloggers within Ilorin. Some of the poems he has written are; Fresh Start, New Beginning, My Beloved, Wandering Alone, In the Mist, about last night, Benediction, I Shall Rise Again among many others.
You can reach him on WhatsApp via this number- 08063646572 or via his Facebook Username- Sahmy Tohmy Lawal.
Thanks for reading, commenting and sharing! Kindly check out other interesting posts 🙂
Also interesting…