It was a cold morning and the occupants of a room and parlour in a face-me-face-you apartment were yelling profanities at each other. The other occupants weren't surprised at this as this wasn't the first time the couple who occupied that particular room would fight and yell at each other. As usual, everyone went about with their daily routine of getting ready for work or school tuning out the yells.
Mrs. Adigun was tired of her husband always treating her like she wasn't human, he was always blaming her for unreasonable issues and she was getting fed up of their marriage. As they yelled at each other, she kept thinking about how she'd pack her luggage to her parents' home that day. Mr.Adigun had woken up that morning and had just had the urge to fight with his wife, he couldn't explain why but he just knew he felt like getting in a fight with her. As the fight got more out of control, his anger also flared.
"Why couldn't the woman just be submissive like most women should be?"
"Why couldn't she just say she was sorry, maybe that would placate his anger?", were the angry thoughts that fleeted through his mind.
The reason they were arguing was none other than the issue of a lack of child in their marriage. Both of them have been married for the past 7 years and there has not been once when a child had cried in their home. Both of them hadn't been smart enough to visit a hospital to know if they had a medical issue but had relied on all kinds of herbal concoctions for fertility or sexual enhancement.
"You are a witch!", Ajala yelled at his wife. "You are a witch! Because if you are not, you'd have given me children like your mates have given their husbands children."
"You are mad! Ajala, you are very mad! Me?! A witch?! What about you? Ehn! What about you? Aren't you the impotent one here?! Aren't you?!. Eh! Pekelepekele arugbo je gbese, tani o san. See this shameless thing o, do you think you can open your mouth and compare yourself to the husbands of those my mates? Do you? Shameless man", Aduke replied in angered retaliation.
"Aduke! Is it me you are talking to like that?! It's me you are calling impotent and shameless?! Me?! I will kill you today! I swear to ogun, I will kill you!", Ajala burst out making a grab for his wife.
The verbal exchange has now excavated into a physical combat in which the couple try to have an upper hand. Ajala kept throwing punches and blows at his wife, Aduke made sure she pinched and bite him at places that counted. Still, no neighbour appeared. They had all learnt not to pay any attention to the couple's fight as they would say, "how is it your business?!".
Almost thirty minutes later, one would think the couple would have had a fill of their fight and would have separated. That wasn't the case, they had torn each others clothes and Aduke was beginning to spot a black eye. The fight had gone back to heated exchange of words again and this time, Ajala had stormed into the room to change his torn clothes. He yelled, "I will come back for you!", before he stormed out of their room.
All the other neighbours had left for their respective jobs or schools and the building was left empty exempting Mr and Mrs Adigun's room. Aduke, who looked like she had been rammed into by a car, knew she had to pack her things and leave for her parents' house before Ajala got back from work. She decided she wouldn't go to the market as she was a seller of palm oil. She would tell Iya Muri, her friend to tell the association she would miss the meeting that was to be held that day too. She dragged herself to the room to get her wrapper so she could have a bath. After taking her bath at the backyard, she returned to the room, wore some old clothes and began packing.
Meanwhile, Ajala was on his way back home with a knife that glistened as the sun reflected on it. The knife was obviously new and sharp and dangerous but no one thought that was strange as the whole neighbourhood knew Ajala as the famous butcher. "He must have bought a new knife because of his work", they must have thought. Ajala had a different use for the knife. He had promised his wife he would kill her and that was what he was going to do.
He stormed into the house as he had stormed out, inevitably announcing his arrival to his wife who was hurriedly packing her luggage in the room. Had she known this fight would be her end, maybe she would have packed faster or packed a long time ago. Life they say is full of surprises and death is a friend to know one, so he doesn't announce when he will come visiting.
At his arrival, Aduke had to run out of the room to see what was happening and had been shocked to see her husband branding a brand new and sharp knife.
"Adigun! Are you crazy?! What is the knife for?", she had exclaimed, shock all over face.
"This is what I will use to kill you. Shey I told you I will kill you? Didn't I?!", Adigun replied admiring the knife.
"Adigun, please calm down. It has not gotten to that now. You don't know what you are saying. Please, calm down", Aduke pleaded.
"Oh! So you can beg now? You can beg? I know what I'm saying, I'm saying I will kill you today. You don't want me to know peace in this house and I'll make sure you don't know peace in your death. Stupid woman!", Adigun threatened making his way slowly toward his wife.
Aduke began moving away from her husband's path, putting distance between them. She knew it was useless to keep begging, she could see the madness on his face and as she moved, she discreetly searched the room for a weapon of her own. Her eyes landed on her husband's butcher's knife on the centre table and all her thoughts became how she was going to reach it. When Adigun lunged for her, she used all the strength she could muster to push him away and she dived for the knife too. Armed with her own knife, the couple faced each other, each prepared to fight for their life.
An hour later, Baba Kabiru, the vulcanizer, came in to have lunch when he found Adigun lying dead in a pool of his blood, he had been stabbed multiple times. Baba Kabiru raised an alarm and people around rushed over to see what happened, the police were called and further investigation revealed Aduke's body lying in her own pool of blood in the parlour also stabbed multiple times.
Officer Mike was baffled at the incident, he couldn't understand how a person would have been able to kill both husband and wife. Didn't the couple fight for their lives? Couldn't at least one of them have been able to escape with his or her life?
The scene was cleared and the news began spreading about the 'always fighting couple who have now died'. Some people believed the couple killed each other, some believed someone had gotten fed up with their constant quarrel and had decided to end their lives. Some even superstitiously said that God had punished them himself. However, evidences showed the police that two knives had been used in the murder and both victims had actually killed themselves. Autopsy revealed that Aduke died before Adigun and it was probably within the short period that he had left that Adigun had dragged himself out the door.
As the police in Lagos were closing up the case, a woman was lamenting the sudden halt of two voodoo dolls in a village called Lagelu. She hadn't planned for the two dolls to stop, only one was supposed to stop moving. One would wonder who this woman was. She was Adigun's mother, Amope. Amope is a renowned and known witch in Lagelu.
Why was she lamenting? Amope had always had a problem with her son's marriage to Aduke, she disliked Aduke because Aduke didn't hold her in so much high esteem like everyone else did. Aduke respected her as a wife should respect her mother-in-law but she didn't fear Amope for her witchcraft and this annoyed Amope greatly. Unfortunately for her, her son loved Aduke like he loved meat and his life, so he never listened when she made various complaints about Aduke. Arguments arose but the couple never separated.
In her desperation to separate the couple, Amope had decided to kill Aduke. She had molded two voodoo dolls, one to represent her son and the other to represent her daughter-in-law. She had whispered instructions to create an argument into the male doll's ear knowing that her son would automatically start a fight with his wife at home and she had watched gleefully as the dolls fought. Soon getting tired and bored with the fight and wanting to have it over with, she had instructed the male doll to get a knife, she molded a knife and placed it in the doll's hand.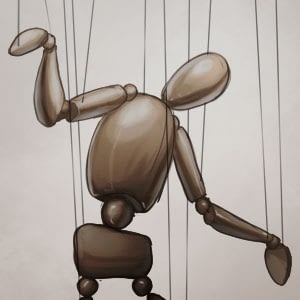 There is an adage that says; "Do not throw stones in the market for you do not know if it will hit a relative of yours on the head". Amope never thought of this adage when she decided to carry out this evil plan and she also didn't realize that her witchcraft was limited, she couldn't know when Aduke picked a knife to defend herself, she only saw Ajala stabbing Amope. She was overjoyed when she saw Aduke's doll stop moving, she had succeeded she thought, she was free of Aduke.
Imagine her shock when she saw Ajala's doll also crumble. The devastated mother ran outside her home, shouting and confessing the evil that she had done. Some people had been sympathetic enough to tell her there was a possibility Ajala wasn't dead but she had insisted that she called his name several times and the doll didn't move. Some had insisted she should be burnt or stoned to death for her crime.
Officer Dipo who had been instructed to go and inform the parents of the deceased of their death, was the person that saved Amope from jungle justice for if he hadn't intervened, she would have been stoned to death. However, he couldn't arrest Amope because there was no physical evidence that would support the fact that she killed her son and his wife. The constitution didn't believe in spiritual powers and didn't make laws regarding it.
ABOUT THE AUTHOR
Hi, my name is Ademidun. I'm a graduate of the University of Ilorin where I studied English, I'm presently serving. I write novels and the attachment is a short novel I wrote. I'm presently working on one. My phone number is: 08160041153.
Thanks!
OTHER FEATURED WORKS
Green Light: http://valtoybob.com/green-light/
DEAF EARS: http://valtoybob.com/deaf/
CRACKED MIRROR: http://valtoybob.com/cracked-mirror/
THE BLUE BOY: http://valtoybob.com/ezim-osai/
ALSO INTERESTING…