It's no longer news to the University of Ibadan students that one of their very own, K Cent is vying for the post of students' union presidency.
K Cent, a first class student from the faculty of law has a twin brother in the union as PRO. T Cent is really active in the union and also on first class too. No doubt, the vibrance and brilliance runs in the family.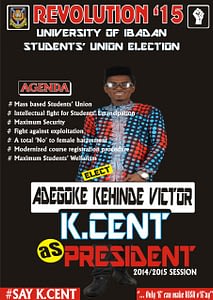 Greatest Uites, this is an opportunity to make our greatest union greater.
Here is K Cent's official campaign jingle produced by Oxygene and performed by Oxygene along side Honey Bee, Demmy Sax and Lil Money. I can see the beautiful tune fast becoming an anthem on every uite lips already.
Say Kay Cent. Revolution 2015.