I placed one hand between my thighs as I did my "Urine Go Away" dance. My other hand was struggling to stabilize the Ghana-Must-Go bag that was on my head. I risked wetting my pants as I used that same hand to press the doorbell to my aunt's apartment. I spent five minutes outside her mahogany door in the snow, dancing and contemplating the idea of emptying my water tank at the corner of the building. Just as I thought about relieving myself in the bush at the corner of the building, I heard a familiar voice. My aunt's voice streamed out of the speaker at the door, "Hello…"
"Hello oh! Aunty mi!! It is I, Lasisi", I shouted hurriedly as I interrupted her.
"I know! I can see you through the camera. I will open the door now", she said and the door automatically opened.
"Ah! Camera?! Camera is watching me", I said as I ran up the stairs to my aunt's apartment on the third floor.
My aunty was waiting at her apartment's door with her arms outstretched to hug me. "Lasisi! Welcome! I have been waiting for you…"
"Aunty, please let me pass oh! I am about to pee on myself!" I screamed as I dodged her hug, dropped the Ghana-Must-Go bag that was on my head, and ran to the toilet.
After successfully finding the toilet and emptying my bladder, I went back with a sigh of relief to the living room, where my Aunt was waiting for me. "I am so sorry, if I was rude", I said as I prostrated. "Good Afternoon, Aunty Mi!"
"Lasisi! You do not have to prostrate for me oh! Please stand up", my Aunty said as she offered me a seat. "Please, make yourself comfortable. Sorry for the delay, I was busy in my home office and did not hear the doorbell on time", she said as she opened the Ghana-Must-Go bag that I dropped on the floor.
"Ah! Yes aunty, I finally found the time to bring your Nigerian food items", I said as I smiled. "Your place is very far away from my school and I am still trying to find my way around", I added.
"I understand, my dear! I have also been very busy. I have not been able to make time out to visit you. You see, in this country, there is no time. There is always a lot to do. I hope you are getting used to the weather here in Germany?"
"Ah! Aunty! The weather is weathering me o! It is so cold, rainy, windy and snowy every time. Man has to always wear 100 pieces of clothing!"
"Are you not feeling too hot in that jacket, you are wearing? My heater is switched on and the room is quite warm. Put off your jacket, feel at home and let me prepare pounded yam. The egusi soup with orisirisi is ready!", said my Aunt as she headed for the kitchen.
"Aunty, let me still wear my jacket oh, because MAN'S NOT HOT"
"Excuse me, what did you say?"
"Man's not hot", I repeated as I followed her to the kitchen.
"Cut those tomatoes for me, then put them in that bowl over there", my Aunt instructed me as she smiled at what I previously said. "I will add the rest of the salad stuff later".
"Aunty Mi! You have come and join these white people to be eating their goat's food. What happened to stepping down pounded yam and egusi with Akara and Ekó?"
"Goat food ke? Salad is good for your body. Don't worry, you will soon start eating it and you will see and feel the difference. There is nothing wrong with trying new and healthy food".
"Talking about seeing and feeling the difference, I have been feeling some kind of way since I arrived in Germany. The way people stare at me whenever I am walking on the street, always gives me goose bumps. And I cannot speak the language, so I always have the feeling that they are talking about me or planning something terrible, like they want to sell me or something".
My aunty laughed.
"It is not a laughing matter nah", I said. "It is something very serious. You know me, I am a Yoruba Angel in our country. Everybody knows me well. If  you look at me up and down, you will know that its true…"
"Now that I am looking at you well. That jacket is for girls! Where did you get it from?", she asked as she laughed one more time. "Your combination is like that of Funke Akindele's Jenifa".
"This jacket?" I asked as I was checking myself out. "I bought this fine jacket from the best bend-down-select market in Yaba, Lagos"
"Don't mind me. It is probably a unisex jacket", she said as she calmed me down. "Do not let the way people look at you, make you feel some kind of way about yourself. Even if they come to you and insult you, just keep calm and walk away. You know who you are. You are the son of the most High and you were created exactly in His image. They are most probably jealous of your shine. They are sad that they are not as handsome as you are. So you must not drop your crown and fight like a thug. Just walk away majestically like you know your worth".
"Now that you are saying that, there was one time that someone was insulting my because of the colour of my skin. Me that I do not like trouble, I just gallantly walked away!"
"That is very good, Lasisi. Did you see the picture of that smiling boy in the living room?"
"Yes", I answered.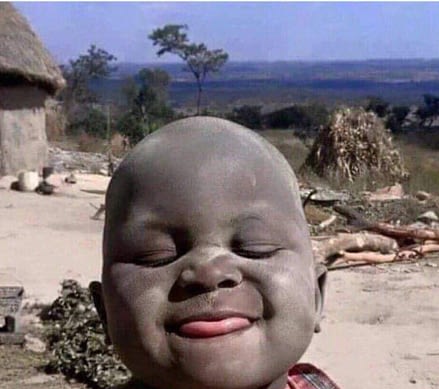 "I have that picture to always remind me to keep on smiling. There was once upon a time, when I was also a Johnny Just Come in this country. At that time, things were worse for the dark-skinned people in this land. In those days, people would walk up to me and begin to ask me stupid questions like; I hope you are feeling comfortable in those shoes because I heard that you don't wear shoes in Africa?"
"Really?! And you did not give them some Made In Nigeria slaps?!"
"Lasisi! So that the police will arrest me, abi?! No oh!" She laughed and continued, "Some people were even asking me if we were leaving on trees and roaming about with wild animals on our streets."
"But Aunty, didn't all these stupid questions make you angry?", I asked.
"Of course, they did, but I am a child of God. Even when I experience discrimination because of the colour of my skin, my origin or my gender, I just smile and place the case in God's mighty hands. I have learned never to allow any bad treatment to destroy my happiness."
"Wow Aunty, you have really come a long way. Look at all you have achieved for yourself", I said as I scanned through her large, well equipped kitchen.
"Well, It has been God oh! And a lot of hard work and perseverance. You should know why you are here. Set your goals right, face your books, get those good grades and never forget your God. I can remember those days, when I used to call your mother and complain about the way things were. I was about packing my bags to move back to Nigeria or go to the UK, but your mother kept on encouraging me. She told me never to forget who I am, she told me to learn how to love myself for who and what I am. She told me never to be ashamed of myself. She said that if I can be happy and satisfied with my identity and myself, the inner beauty in me will flourish and attract positive energy. She said that I was going to shine in this foreign land and to be honest with you, I have started to shine!!"
"I pray I will also shine o! Amo shine! I must shine!", I said joyfully.
"Where are you learning this bad English from?! Anyway, you are surely going to shine. You will certainly meet with good people that will help and guide you through life. I am talking from experience", my Aunt encouraged me. "Just be careful of the company that you keep!!! Show me your friend and I will tell you who you are!"
"Choi!! Jesus! Please take this thing away from me! It is about to attack me oh!", I screamed and almost wet my pant. Well, like some drops of urine accidentally leaked out.
My Aunt started to laugh again. "Lasisi! Village boy! Awww!! That's so cute!!"
"Aunty, why are you doing this to me?! Why did you send this thing to come and attack me?"
"Lasisi! That thing is called a robotic vacuum cleaner!"
"Robo-WHAT? What is vacuum?! What is it cleaning?!"
"Because you spilled some of the tomatoes on the floor and some of those salad, the robotic vacuum cleaner automatically detected that there were stains on the floor. When something like this happens, it moves around to find the stained spots and clean them up. Very simple! It also cleans the whole apartment in the afternoon, when nobody is at home."
"Come and see wonders o! What happened to broom and packer?"
"Lasisi! Welcome to Europe! Well, I am actually working with a company that develops robots and this happens to be one of my projects. I can see that it is working very well", she said as she served me some hot pounded yam and egusi soup.
"I thought the robo-SOMETHING wanted to attack me. I thought some people from our village crossed the ocean to come and destroy my leg", I said as I was trying to catch my breath.
"Ah! What nonsense! Take your food, let us go and eat before the food gets cold".
"Thank you ma!"
"You're welcome. After eating, we can go to the city to visit the Christmas market and also for some shopping. You need to get some good clothes so that you would stop looking like that famous guy on Instagram and Snapchat".
"Who? Do you mean Bobrisky?!"
"Oh No! Not the Bobrisky, but his boy called Jakurrb!", she said smilingly as we sat at the dinning table.
"Aunty Mi! Aunty Mi! You too, you are current oh!!!"
"Yes oh! We have to fix this your swagger swagger. Your colour riot looks like Jenifa's colour combination", she could not help but laugh. "I'm just kidding oh!"
I looked at the picture of the little black boy, that my aunty was referring to earlier, and I promised myself to be satisfied with who and what I am. I have a purpose and that should be my focus. I have to ignore the noise from the crowd and the market people.
ALSO INTERESTING…